Cardiovascular Disease, Hypertension, Overall Health, Ocular Health: Let's See the Connections to a Healthier Life
The eyes are a window to overall health. While everyone should have a primary care physician – and routinely visit him or her – some patients often visit their eye doctor more frequently than their primary care provider. While this may be for a variety of reasons, in my experience as a clinician, eye doctors are often seen as the "pain free" provider and typically do not relay life-threatening diagnoses. Thus, there may be less apprehension about an eye exam.
When someone notices visual changes, he or she typically will think they need an eye exam for a new prescription for glasses and contacts. A high blood pressure diagnosis can be rendered at the eye doctor's office, where patient history, chief complaints, vital signs and individualized specialized tests are gathered routinely as part of a comprehensive eye examination.
Therefore, the inclusion of blood pressure testing in the vital sign measurements in an eye exam is essential for hypertension management and can significantly reduce the risk of heart attack, heart failure, stroke and more among patients. High blood pressure affects nearly 90 million U.S. adults and blood pressure control has been proven by many studies to significantly reduce non-fatal and fatal cardiovascular events.
Cardiovascular disease and diabetes have a significant public health impact. About one of three U.S. adults (75 million people) has high blood pressure. Only about half (54%) of these have their high blood pressure under control. Of note, according to the Centers for Disease Control and Prevention (CDC) during 2011-2014, a higher percentage of women had controlled hypertension (56.3%) than men (50.5%). Overall, the prevalence of hypertension among adults was 29.0% for 2011–2014 and was similar among men (30.0%) and women (28.1%).
While in clinical practice, my diagnostic referral of hypertensive patients to primary care physicians was a routine occurrence. I co-managed the patient, which included my initial screening during a comprehensive eye exam, patient education and follow-up visits. It is important that all health care providers – including eye doctors – play a role in attending to our patients' overall health needs.
I'm now at the U.S. Food and Drug Administration (FDA), Commissioner's Office of Health and Constituent Affairs, where we regulate the medications and devices used to manage cardiovascular disease, which includes hypertension. Just as I made sure I educated my individual patients on the diagnosis and therapeutic treatment of hypertension and hypertensive retinopathy, as the Director of the FDA Cardiovascular and Endocrine Liaison Program, I now have the opportunity to get accurate, science-based information in the hands of all American citizens affected by cardiovascular disease so they can use medicines, devices and foods to maintain and improve their health.
The Cardiovascular and Endocrine Liaison Program (CELP) enables patients with these conditions and health professionals who treat them to interact with the FDA in an effective and consistent manner.
The FDA is an active participant in the U.S. Health and Human Services (HHS) Million Hearts initiative, joining 120 official partners, including the CDC, the Centers for Medicare & Medicaid Services, and 20 other federal agencies. Now in its second iteration, this initiative successfully aligns national cardiovascular disease prevention efforts around a select set of evidence-based public health and clinical goals and strategies. The aim is to prevent a million cardiovascular events in five years. National and regional health initiatives, including Healthy People 2020, the Million Hearts initiative, and the Community Preventive Services Task Force, have sought to increase public awareness of the health benefits of improving blood pressure control.
The FDA led this public health effort by policy and awareness changes consisting of the formation of the Enhanced Medication Adherence Strategic Initiatives stakeholder collaborative and the January 2017 publication of the article, "Improving Medication Adherence in Cardiometabolic Disease: Practical and Regulatory Implications." The article, published in the peer-reviewed Journal of the American College of Cardiology (JACC), promoted healthier levels of sodium consumption, changing product and menu labels, and encouraging decreased tobacco use, to name a few.
The FDA provides the regulatory framework to keep medical products used by eye doctors to diagnose and treat conditions and diseases, safe and effective for the American people. So if the eyes are the window to overall health, you can see that routine eye care by an optometrist or ophthalmologist, along with regular visits to your primary care provider, should be an essential part of everyone's overall health care regimen.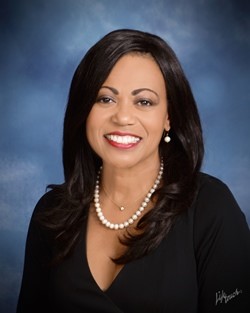 Helene D. Clayton-Jeter, OD
Director, Cardiovascular and Endocrine Liaison Program
Office of Health and Constituent Affairs
Office of the Commissioner
U.S. Food and Drug Administration
Dr. Clayton-Jeter is the Director of the Cardiovascular and Endocrine Liaison Program in the Commissioner's Office of Health and Constituent Affairs (OHCA) at the U.S. Food and Drug Administration. She assists in planning, developing, and evaluating FDA policies and programs related to patients and health care professionals. In her role at OHCA, she serves as a channel through which health professional and patient issues and viewpoints can be brought to the attention of FDA medical and regulatory staff. Dr. Clayton-Jeter serves as the OHCA subject-matter-expert in the optometry/ophthalmology, cardiovascular and diabetes topic areas. She is the primary liaison to the Center for Devices and Radiological Health, sits on the Department of Health and Human Services Health (HHS) Disparities Council and the Million Hearts All HHS Agency Council. Two 2014 gubernatorial appointments to the Commonwealth of Virginia Board of Optometry and Board of Health Professions is a testament to her past and current dedication to public service. Dr. Clayton-Jeter has a B.S. degree in Visual Science and O.D. (Doctor of Optometry) degree from Pennsylvania College of Optometry at Salus University and holds a B.S. degree from Virginia Commonwealth University. She practiced clinical optometry in a variety of healthcare settings for over 20 years prior to joining the staff at the Office of Health and Constituent Affairs.
Dr. Clayton-Jeter acknowledges her OHCA, Patient Liaison Team colleagues, especially Salina Miller, M.S., M.B.A. for their contribution to this article.