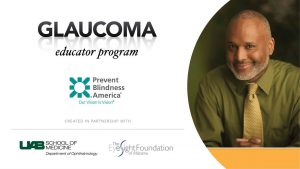 The "Glaucoma Educator Program" covers the visual system and the signs, symptoms and treatments for glaucoma.
This program will equip vision center staff, health educators and community health workers to deliver patient education messages about how glaucoma affects the eyes, the importance of dilated comprehensive eye examinations, and strategies to prevent vision loss from the disease during interactions with high-risk individuals.
The objectives of the program are:
To train vision center staff and other healthcare or health education personnel with regular access to patients to become "Glaucoma Educators" to deliver education about glaucoma and the methods for vision preservation.
To provide "Glaucoma Educators" with the knowledge and materials to conduct one-on-one patient education at their facilities.
All PBA programs are based on:
Medically accepted eye and vision health information
Standardized training, testing and reporting
Continual program evaluation
Participants will receive certification upon successful completion of the "Glaucoma Educator Program" and post-test.  Certified "Glaucoma Educators" will:
Receive patient education materials
Be able to implement the "Glaucoma Educator Program" into their facilities and programs
To become a certified "Glaucoma Educator":