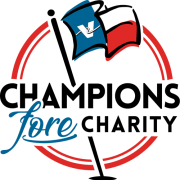 It's Champions fore Charity time, meaning our donate page might look a bit different.
Instead of linking to our usual donation page, during the next couple of months we will be linking to the Champions fore Charity page!
What is Champions fore Charity?
Champions fore Charity is an exciting fundraising program linked to the Valero Texas Open, the 3rd oldest tournament on the PGA TOUR schedule.
As a participating organization we will receive 100% of every penny we raise through Champions fore Charity. Valero Texas Open and Champions fore Charity pays all the costs to run the program. We also have the opportunity to earn additional "Bonus Money" provided by the Valero Texas Open, including a 7% match to make your donation even grow further!
Meaning, your donation of $100 will now be $107 or your donation of $50 will now be $53.50!!!
The link will take you directly to our donation page, from this page you can learn more about Champions for Charity and the Valero Texas Open.
Thank you so much for your continued support of PBT!
Your donation today will fund outreach to people at the highest risk of vision loss. It will support quality vision screenings for preschool, school-aged children and adults, and provide access to professional eye care for low income families around Texas. Your donation will fund advocacy and research toward the goal of helping more Texans enjoy the gift of sight for a lifetime.