Campaign Encourages People to Share their #WhyEyeFight Stories to Bring Awareness to this Progressive Eye Disease
BRIDGEWATER, New Jersey, (Feb. 6, 2018) – Bausch + Lomb, a leading global eye health company, today announced the launch of a public service announcement and docu-series, designed to raise awareness of Age-related Macular Degeneration (AMD), the leading cause of vision loss in adults aged 50 and older[1]. The series includes deeply powerful stories of people living with AMD, while encouraging others to understand the risk factors for AMD and how to help reduce the risk of progression of the disease.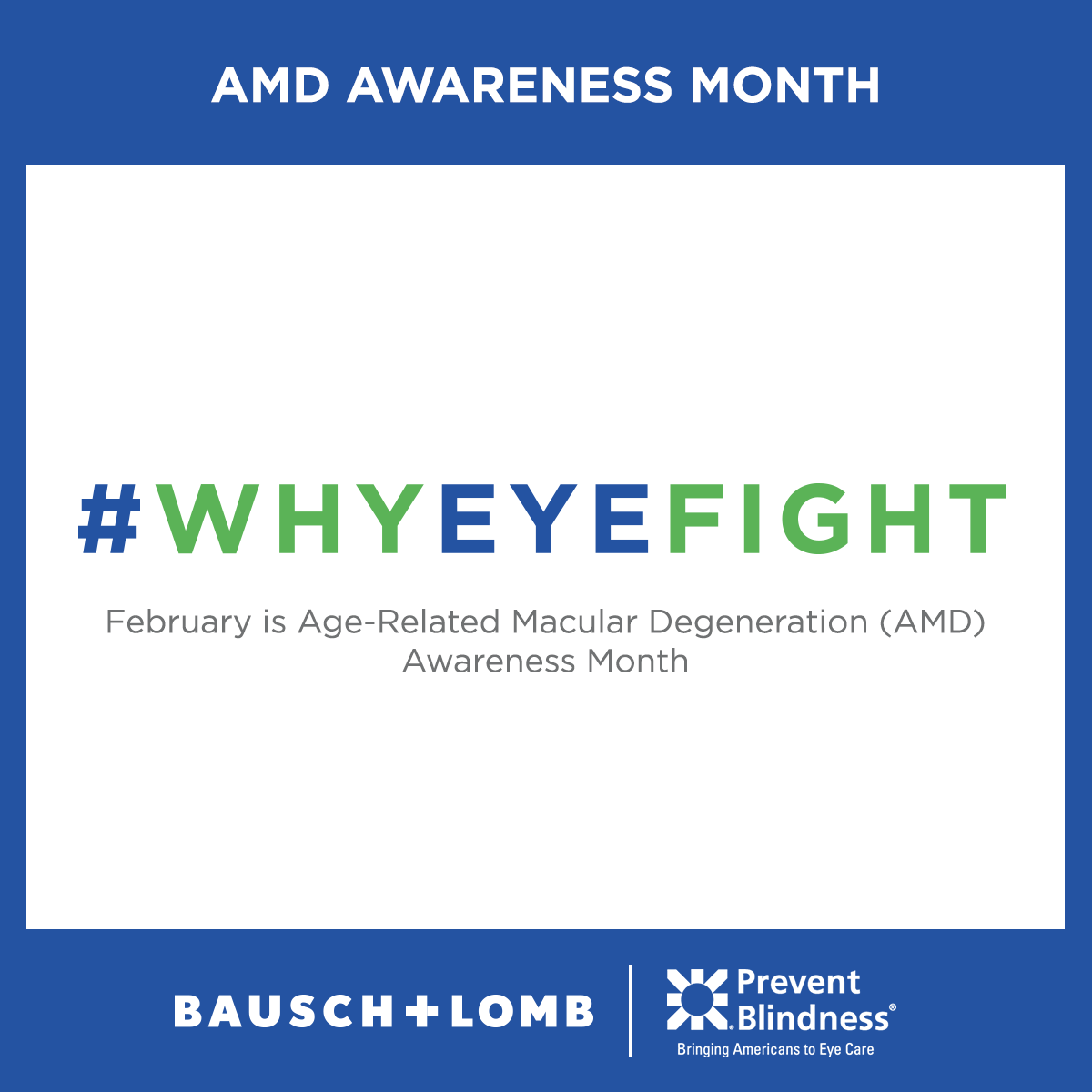 "As a company singularly devoted to vision health for more than 160 years, we are inspired by the spirit of the more than 9 million Americans who suffer from moderate to advanced stages[2] of this progressive eye disease, and believe their stories have the power to motivate others to take action to help preserve their vision," said Joe Gordon, President, Bausch + Lomb Consumer Healthcare.
AMD is characterized by loss of central vision, in one or both eyes. It is estimated that one in five people over the age of 65 will be diagnosed with this disease[3] and, as the population ages, that number is expected to increase[4]. In its early stages, AMD may not present any symptoms, therefore patients may not think to consult with their eye care professional—leaving opportunity for the condition to advance. Left untreated, AMD has the potential to lead to severe vision loss or blindness.
Though there is no cure for AMD, there are steps that patients with AMD can take that can help to reduce the risk of progression, such as maintaining a healthy diet and taking PreserVision® AREDS 2 Formula eye vitamins—which contain the exact nutrient formula recommended by the National Eye Institute for people with moderate to advanced AMD[5]. Patients should talk to their eye doctor to see if an AREDS 2 formula vitamin is right for them.
Throughout the month of February, Bausch + Lomb encourages people to show their support of those living with AMD on social media. From February 1 through February 28, 2018, every "share" or "like" of a Bausch + Lomb Facebook post promoting AMD Awareness Month will result in a $1* donation to Prevent Blindness, the nation's oldest volunteer eye health and safety organization dedicated to fighting blindness and saving sight.
"We value our continued collaboration with Bausch + Lomb and the #WhyEyeFight program, that helps those living with AMD, and their caregivers, learn about this disease and the best ways to help prevent significant vision loss from it," said Hugh R. Parry, president and CEO of Prevent Blindness. "For the third consecutive year, with Bausch + Lomb's leadership, we will be making a positive impact in educating the public on AMD as well as reminding everyone of the importance of healthy vision."
The public can help raise awareness by adding the #WhyEyeFight custom frame to their Facebook profile picture, or by sharing social posts with the hashtag, #WhyEyeFight. Links to the Bausch + Lomb AMD Facebook posts and instructions on how to add the Facebook profile picture frame are available at www.WhyEyeFight.com.
For more information on AMD or the #WhyEyeFight campaign, visit www.WhyEyeFight.com or www.advocacy.preventblindness.org/amd. Follow the conversation on Twitter and Facebook using the hashtag #WhyEyeFight.
About Prevent Blindness
Founded in 1908, Prevent Blindness is the nation's leading volunteer eye health and safety organization dedicated to fighting blindness and saving sight. Focused on promoting a continuum of vision care, Prevent Blindness touches the lives of millions of people each year through public and professional education, advocacy, certified vision screening and training, community and patient service programs and research. These services are made possible through the generous support of the American public. Together with a network of affiliates, Prevent Blindness is committed to eliminating preventable blindness in America. For more information, or to make a contribution to the sight-saving fund, call (800) 331-2020. Or, visit us on the Web at www.advocacy.preventblindness.org or facebook.com/preventblindness.
About PreserVision®
PreserVision®, developed by Bausch + Lomb, is the #1 doctor-recommended eye vitamin brand. PreserVision® AREDS 2 Formula eye vitamins are based on the 2013 AREDS2 study conducted by the National Eye Institute, a division of the National Institutes of Health.
About Bausch + Lomb
Bausch + Lomb, a Valeant Pharmaceuticals International, Inc. company, is a leading global eye health organization that is solely focused on protecting, enhancing and restoring people's eyesight. Our core businesses include over-the-counter supplements, eye care products, ophthalmic pharmaceuticals, contact lenses, lens care products, ophthalmic surgical devices and instruments. Bausch + Lomb develops, manufactures and markets one of the most comprehensive product portfolios in the industry, which is available in more than 100 countries.
*Bausch + Lomb will donate $1 to the organization Prevent Blindness for every Facebook like or share, up to $50,000 from 2/1/2018 through 2/28/2018.
PreserVision is a trademark of Bausch & Lomb Incorporated or its affiliates.
AREDS2 is a registered trademark of the United States Department of Health and Human Services (HHS).
All other product/brand names and/or logos are trademarks of the respective owners.
© 2018 Bausch & Lomb Incorporated.