To kick off recognition of World Sight Day 2023, Prevent Blindness hosted a reception in Washington, DC on Thursday, September 21 with stakeholders and partners within the vision and eye health community in attendance. The theme of World Sight Day 2023 is "Love Your Eyes at Work," with a special focus on how employers, insurers, and policymakers can better examine vision and eye health insurance policies and coverage for employees and workers.
Participants heard welcoming remarks from President and CEO of Prevent Blindness Jeff Todd and Peter Holland, the CEO for the International Agency for the Prevention of Blindness, who discussed the World Sight Day 2023 theme around eye health in the workplace and highlights from a recent report by the International Labour Organization and IAPB, "Eye Health and the World of Work."  In addition, Vivian Fridas, who is a patient advocate and public policy specialist for the National Industries of the Blind, shared her story of vision loss, noting her experience advocating for workplace accommodations for those who live with vision loss. In closing, Congressman Gus Bilirakis, the Chair of the Congressional Vision Caucus, who also delivered pre-recorded remarks.
All Americans – no matter their personal background, racial and ethnic community, age, livelihood, and circumstance—deserve access to eye care that can help them enjoy productive and engaging lives and reap the full benefits of their professional work. From office buildings to factory floors, from transporting people and goods all over the country, to creating works that move and inspire us, good vision and eye health allows us to maintain our livelihoods, find our professional purpose, and enjoy a sense of economic well-being. Below is a story from ASPECT participant, Eyes on Capitol Hill Team Leader, and patient advocate Rosalind Isom.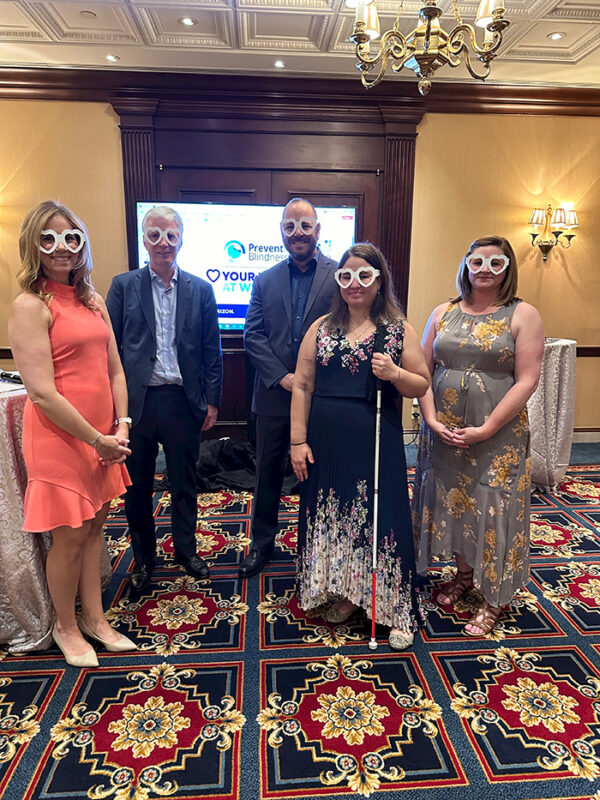 Pictured from left to right: Sara Brown, Director of Government Affairs, Prevent Blindness; Peter Holland, CEO, International Agency for the Prevention of Blindness; Jeff Todd, President and CEO, Prevent Blindness; Vivian Fridas, Patient Advocate and Policy Specialist for the National Industries of the Blind; Kira Baldonado, Vice President Public Health and Policy, Prevent Blindness