Paul Delatore, Jim McGrann and Dr. Rajeev S. Ramchandran Join Prevent Blindness Board of Directors
Prevent Blindness has announced that Paul Delatore, Global Head, Market Access at Alcon, Jim McGrann, Chairman & CEO of Healthy Eyes Advantage, and Rajeev S. Ramchandran, M.D., Associate Professor of Ophthalmology in the University of Rochester Medical School's Department of Ophthalmology, have been elected to the Prevent Blindness Board of Directors. The vote was held on Nov. 2 at the 2018 Prevent Blindness Annual Board Meeting in Chicago.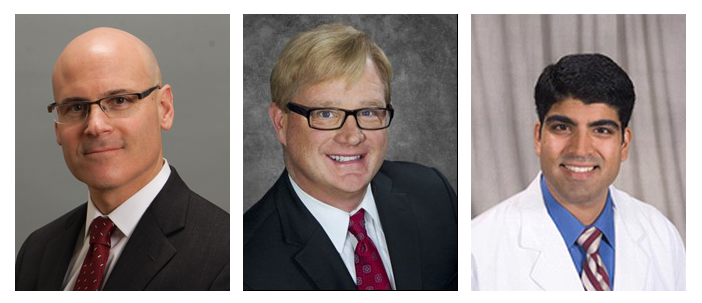 Paul Delatore, Jim McGrann and Dr. Rajeev S. Ramchandran
Additionally, Charles Garcia, EVP, Director of Treasury Management Associated Bank, is taking over as Board Treasurer, overseeing the financial management of Prevent Blindness. Mark Ginsberg, Chief Marketing Officer at VSP Global is the new Marketing and Development Committee Chair. Sandra Block, OD, at the Illinois College of Optometry and Jean Ramsey, MD, at Boston University School of Medicine, will serve as the new co-chairs of the National Center for Children's Vision and Eye Health at Prevent Blindness Advisory Committee. And, Dr. Ramchandran will serve as the new Scientific Committee Chair.
At Alcon, Paul Delatore leads Global Market Access, which includes Health Economics & Outcomes Research, Strategic Pricing, Reimbursement, and Government Affairs groups. He is responsible for developing and executing strategies that improve market access of Alcon devices and value offerings for patients. Delatore has more than 17 years healthcare industry background in medical devices and diverse experience with industry leading companies, such as Johnson & Johnson, CR Bard, The Walt Disney Company, and AT&T International. He has a Bachelor's degree in Business Administration from Creighton University, a M.B.A. from the University of Miami, and he is a Certified Six Sigma Black Belt. More recently, he completed post-graduate work at Kellogg School of Management and Thomas Jefferson University School of Population Health.
Jim McGrann is the Chairman & CEO at Healthy Eyes Advantage, the largest practice solutions network in the country, currently serving more than 10,000 independent ODs, MDs and Opticians across the country. Jim most recently served as President & CEO of VSP Global and is the former President of VSP Vision Care, Chief Technology Officer of VSP Global, President of Eyefinity and CIO of Marchon Eyewear. He also served as Chairman of the Board for the National Association of Vision Care Plans (NAVCP). McGrann has a B.S. in Industrial Engineering from Columbia University.
Rajeev S. Ramchandran, M.D., M.B.A., is Associate Professor of Ophthalmology in the University of Rochester Medical School's Department of Ophthalmology. He is a practicing vitreoretinal surgeon and the Director of Population Eye Health at the Flaum Eye Institute. Dr. Ramchandran is part of the Diabetic Retinopathy Clinical Research Network. He has been a member of the Prevent Blindness Scientific Committee and was a past winner of the Prevent Blindness Joanne Angle Investigator Award (a research grant, presented annually, to scientifically-based studies that seek to end unnecessary vision loss), for his study, "Implementation Science Based Study of Teleophthalmology for Diabetic Retinopathy Surveillance." He is a member of the American Academy of Ophthalmology, the American Society of Retinal Specialists and the Association for Research in Vision and Ophthalmology.
"Our all-volunteer National Board of Directors at Prevent Blindness consists of some of the most impressive leaders in the health care field and the vision industry," said Torrey DeKeyser, Board Chair of Prevent Blindness. "We enthusiastically welcome Mr. Delatore, Mr. McGrann and Dr. Ramchandran to the Board and look forward to their leadership in helping us continue to provide sight-saving programs throughout the country."
For all full listing of members of the Prevent Blindness Board of Directors, please visit https://www.advocacy.preventblindness.org/prevent-blindness-board-directors. For more information about Prevent Blindness or general eye health information, please call (800) 331-2020.
Download a copy of the new board of directors press release