Acting Surgeon General of the United States, Rear Admiral Boris D. Lushniak to Speak at the Prevent Blindness Focus on Eye Health National Summit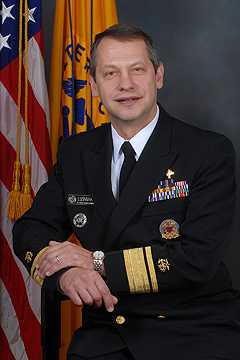 CHICAGO (June 2, 2014) – Prevent Blindness is pleased to announce that Rear Admiral (RADM) Boris D. Lushniak, M.D., M.P.H., the Acting United States Surgeon General, will provide opening remarks at the third annual Focus on Eye Health National Summit. The Summit will be held on Wednesday, June 18, 2014, from 7:30 a.m. to 3 p.m. at the National Press Club in Washington, D.C. The mission of the Summit is to elevate the national dialogue around vision and public health issues.
---
Join us for the free Live Webcast of the Focus On Eye Health National Summit,
June 18, 8:30 a.m. – 12:30 p.m., ET.

---
RADM Lushniak will emphasize the damaging effects of smoking on vision. A recent report from the Office of the Surgeon General, "The Health Consequences of Smoking—50 Years of Progress: A Report of the Surgeon General, 2014," noted that cigarette smoking causes age-related macular degeneration, one of the leading causes of vision loss.
"All of us at Prevent Blindness want to thank RADM Lushniak and his staff for their commitment to educating the public on the harmful effects that smoking has not only on overall health, but specifically on vision," said Hugh R. Parry, president and CEO of Prevent Blindness. "By participating in our Summit, the Surgeon General is helping to bring much-needed awareness about the negative threat that smoking poses to our eyes."
Also at the Summit, Prevent Blindness will release findings from its new study, "The Future of Vision: Forecasting the Prevalence and Costs of Vision Problems." The report was commissioned by Prevent Blindness from the NORC at the University of Chicago. The study will be presented by the report's author, John Wittenborn.
Additional presentations for the Prevent Blindness Focus on Eye Health National Summit include:
The Prevalence and Effects of Comorbid Chronic Conditions Among People with Vision Impairment – John Crews, DPA, Vision Health Initiative, Centers for Disease Control and Prevention
Impact of Diabetes Among Younger People on Future Eye Disease – Neil Bressler, MD, Johns Hopkins University
Smoking, Eye Disease, and Vision Loss – David Lee, PhD, University of Miami
Vision Loss and Depression –Alan Morse, JD, PhD, Lighthouse Guild International
Falls and Vision – Bernard Steinman, PhD
The Impact of Fiscal Policy on Eye and Vision Health – Emily J. Holubowich, MPP
Children's Vision: A Population Perspective – Panel members include David Musch, PhD, MPH and Joshua Stein, MD, MS, University of Michigan; Richard Bunner, MA, retired from the Ohio Department of Health; Alex Kemper, MD, MPH, MS, Duke University; Sandra Block, OD, MEd, Illinois College of Optometry; Rachel Schumann, PhD, RN, Michigan Department of Community Health
Reducing the Impact of Diabetic Eye Disease – Panel members include Jinan Saaddine, MD, MPH, CDC Vision Health Initiative; Lori Grover, OD, PhD, Arizona State University; Neil Bressler, MD, Johns Hopkins University; Joan Hill, RD, CDE, LDN, American Association of Diabetes Educators
Turning the Tide – Can Public Policy Curb the Growing Impact of Vision Problems? – Panel members include Tricia Schmitt, White House Office of Management and Budget; Ilisa Halpern Paul, District Policy Group, Drinker Biddle; Alison Manson, MPH, Prevent Blindness
Attendees will include patient advocates, national vision and eye health organizations, government representatives, and community-based organizations. For those unable to attend in person, a free webcast will be available courtesy of Pascale Communications, as well as Twitter commentary at #eyesummit.
Current gold-level sponsors include AMD Alliance International, The Allergan Foundation, BrightFocus Foundation, The EyeSight Foundation of Alabama, Genentech, Lighthouse Guild International, National Center for Children's Vision and Eye Health, Transitions Healthy Sight for Life Fund, The Vision Council, and VSP.
Silver-level sponsors include Alliance for Aging Research, Alliance for Eye and Vision Research, American Academy of Ophthalmology, Vision Care Section of the American Public Health Association, American Optometric Association, Association for Research in Vision and Ophthalmology, Foundation Fighting Blindness, Lions Club International, Local Eye Site, Notal Vision, Regeneron, Research to Prevent Blindness, Vision 2020 USA and VisionServe Alliance. Sponsorship opportunities are still available.
To register or for more information about the Prevent Blindness Focus on Eye Health National Summit or sponsorship opportunities, please visit advocacy.preventblindness.org/eyesummit or call (800) 331-2020.
Download a copy of the Focus On Eye Health National Summit press release.