Prevent Blindness presented Marge Axelrad, senior vice president, editorial director at Vision Monday/Jobson Optical Group, with the 2017 Person of Vision Award.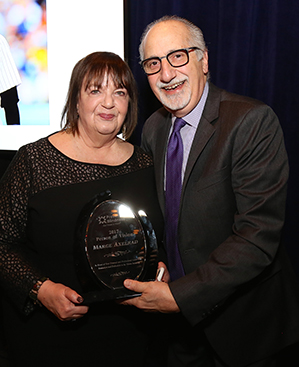 The award was given on March 30, 2017, at the Prevent Blindness Person of Vision Dinner at the Lotte New York Palace, New York City, in conjunction with Vision Expo East.
The Prevent Blindness Person of Vision Award recognizes an individual or organization whose inspired outlook champions healthy vision and its importance for a healthy life. Axelrad has had a long and distinguished career working with the vision care industry as well as volunteering for Prevent Blindness in a variety of roles, including serving on numerous committees and its Board of Directors.
VSP Global served as the event's Gold Sponsor with Essilor as the Silver Sponsor. Bronze sponsors included ClearVision Optical, MyEyeDr., and Regeneron. Additional sponsors were ABB Optical, Costa Del Mar, Europa Eyewear, Gilbert Displays, Hilco Vision, Jobson, Kavanagh Consulting, Luxottica, Mondottica, NVI, The Optical Women's Association, Optyx, Professional Eye Care Assoc. of America, Reed Exhibitions, Safilo, SEE Eyewear, The Vision Council, Vision Essentials, Visibility Management and Zyloware Eyewear.
"We congratulate Marge Axelrad on this much-deserved award and thank her for her decades of service to our industry and organization," said Hugh R. Parry, president and CEO of Prevent Blindness. "And, we offer a special thank you to our event sponsors, Person of Vision Award Committee Chair Marc Ferrara and committee members, and to all of those who came together to make this event a tremendous success!"
For more information on the Prevent Blindness Person of Vision Award, please contact Sue Corbett at (312) 363-6014 or [email protected].