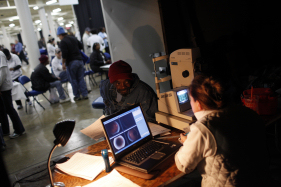 A high-risk diabetic receives a digital retinal screening to detect diabetic retinopathy
Prevent Blindness Tennessee was one of 19 medical providers to participate in the Project Homeless Connect event to provide free vision services to Nashville's homeless population. Approximately 358 homeless individuals received access to vision health services including screening assessments for vision acuity and diabetic retinopathy, and assistance with getting prescription eyeglasses.
Project Homeless Connect is a one-day, one-stop event hosted by The Key Alliance and the Nashville Chamber Public Benefit Foundation to provide people experiencing homelessness with access to a broad range of health and human services. The reports of 60 service providers participating in the 2009 Project Homeless Connect show that more than 9,500 services were provided to 1,558 individuals and families in one day.