John Ferris and Dr. Cadmus C. Rich Join Board of National Non-profit Group
CHICAGO (Nov. 6, 2017) – Prevent Blindness, the nation's oldest volunteer eye health and safety organization, has announced that John Ferris, MBA, Vice President and General Manager of Vision Care at Bausch + Lomb, and Cadmus C. Rich, MD, MBA, CPE, Senior Vice President and Chief Medical Officer of Aura Biosciences, have been elected to the Prevent Blindness Board of Directors. The vote was held on Nov. 3 at the 2017 Prevent Blindness Annual Board Meeting in Chicago.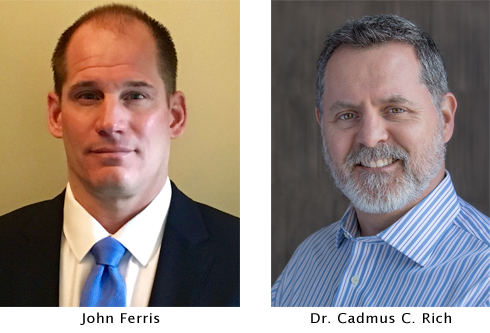 At Bausch + Lomb, John Ferris is responsible for management of the U.S. contact lens business. He was previously the Vice President of Marketing for the company's eye vitamins business, managing the company's PreserVision and Ocuvite brands. He first began working directly with Prevent Blindness in 2015 as part of the #WhyEyeFight program, an annual collaboration between Bausch + Lomb and Prevent Blindness to raise awareness of Age-related Macular Degeneration (AMD). Ferris has a B.S. in Electrical Engineering from Ohio University, and an MBA from Ohio State University, Fisher College of Business.
As the Chief Medical Officer and an ophthalmologist, Dr. Cadmus C. Rich is responsible for medical, clinical and therapeutic strategy and execution for Aura Biosciences. Dr. Rich was previously the Vice President of Medical Affairs and Business Development at Inotek Pharmaceuticals, and at Alcon Laboratories, Inc., he served as the Therapeutic Unit Head-Intraocular Lenses, and was the Head of Clinical Trials Management-Pharmaceuticals. He is a Fellow of the American Academy of Ophthalmology and Member of the Association for Research in Vision and Ophthalmology (ARVO) and the American Society of Cataract and Refractive Surgery (ASCRS). He earned a BA of Psychology from Case Western Reserve University, an MD and Residency in Ophthalmology from University of North Carolina at Chapel Hill School of Medicine, and an MBA from Regis University.
"We enthusiastically welcome Mr. Ferris and Dr. Rich to our Board of Directors, and we look forward to their unique insights and expertise in helping us continue our sight-saving mission," said Hugh R. Parry, president and CEO of Prevent Blindness.
For more information about Prevent Blindness or general eye health information, please call (800) 331-2020 or visit advocacy.preventblindness.org.
Download a copy of the Prevent Blindness 2017 national board press release.