Tipping Point Community Awards Grant to Prevent Blindness Northern California
Investment in See Well to Learn program tops $1 million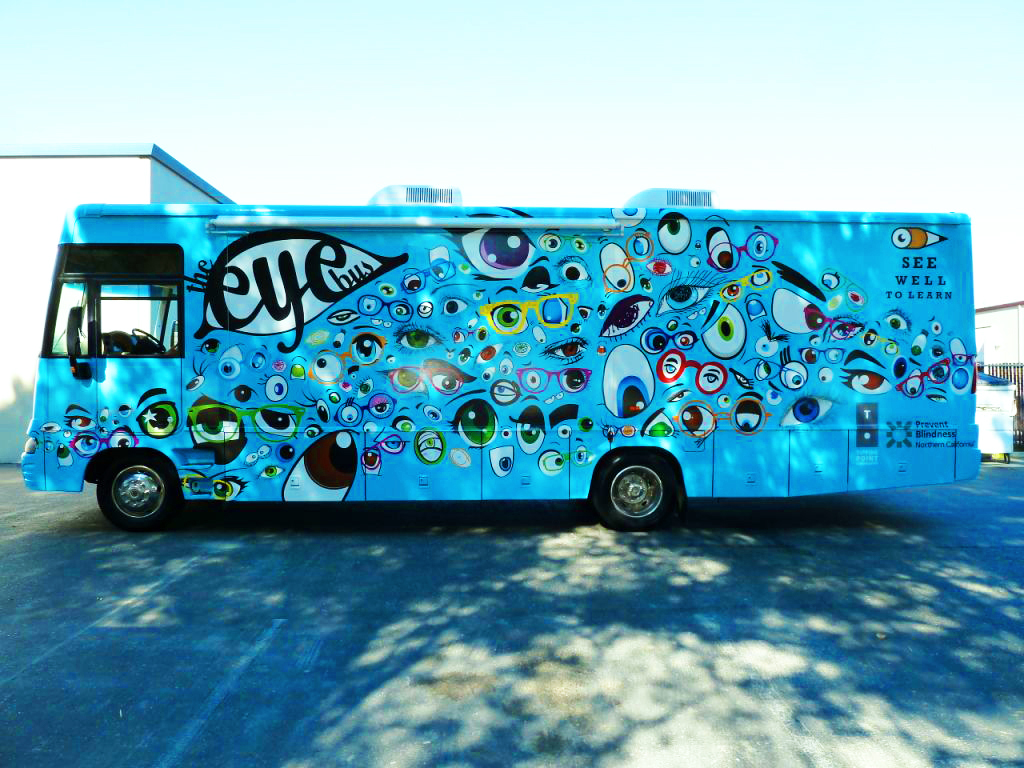 (See Well To Learn Eye Bus)
SAN FRANCISCO (March 25, 2015) – Tipping Point Community has awarded Prevent Blindness Northern California a $175,000 grant to continue the 2015 support for the See Well to Learn program.See Well to Learndelivers free high-tech vision screening, eye exams and glasses to preschoolers in low income neighborhoods in San Francisco and Oakland. All services are conducted onboard an Eye Bus, a mobile clinic that is driven to preschool sites to both increase access to care as well as facilitate outreach to educators and parents. In 2012, Tipping Point Community provided seed money for the See Well to Learnpilot and to date has invested $1 million in the program. In the last three years, over 22,000 low-income preschoolers have received vision screening and services.
We're proud of the early investment we made in See Well to Learn," said Daniel Lurie, CEO + Founder of Tipping Point Community. "There are often many hurdles to early childhood education, but seeing well shouldn't be one of them. See Well to Learn has served thousands of low-income children in the Bay Area in just a few short years and made an immeasurable difference.
Detecting vision problems and making sure children who need glasses receive them is a simple yet effective way to make sure all preschoolers are ready for kindergarten. A recent study by UCSDshowed that preschoolers who needed glasses scored worse on tests designed to predict future academic performance. After just 6 weeks of wearing glasses, their scores jumped to match the scores of those who did not need glasses.
"As a result of our ongoing investments from Tipping Point Community, we are continuing to serve the communities in San Francisco and Oakland with our See Well to Learn program as well as beginning to plan for expanded efforts in the greater Bay Area in the near future," said Seth M. Schalet, CEO of Prevent Blindness Northern California.
###
About Tipping Point Community:About Tipping Point Community: Since 2005, Tipping Point Community has raised more than $80 million to educate, employ, house and support nearly 365,000 Bay Area people in need. Tipping Point screens nonprofits rigorously to find, fund and partner with the most promising organizations helping low-income people achieve self-sufficiency. 100% of every dollar donated fights poverty. www.tippingpoint.org
Contact:
Jen Pitts, Managing Director, Communications + Development
(415) 348-1240 Email: [email protected]
About Prevent Blindness Northern California: Founded in 1966, Prevent Blindness Northern California is the nation's leading volunteer eye health and safety organization dedicated to fighting blindness and saving sight. Focused on promoting a continuum of vision care, Prevent Blindness touches the lives of millions of people each year. For more information, contact Prevent Blindness Northern California 1388 Sutter Street, Suite 408, San Francisco, CA 94109.
Contact:
Seth M. Schalet, CEO
(415) 567-7500 Email: [email protected]