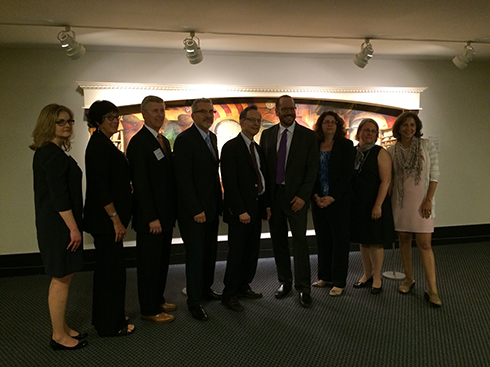 On May 19, Prevent Blindness and the National Center for Children's Vision and Eye Health (NCCVEH) joined leading groups in presenting recommendations to the Institute of Medicine's (IOM) Committee on Public Health Approaches to Reduce Vision Impairment and Promote Eye Health.
This new committee of the IOM includes experts across multiple disciplines. Its work will produce a consensus study to examine the core principles and public health strategies to reduce visual impairment and promote eye health in the United States. The final report, anticipated to be released in 2016, will describe limitations and opportunities to:
Improve vision and eye health surveillance;
Reduce vision and eye health disparities;
Promote evidence-based strategies to improve knowledge, access and utilization to eye care;
Identify comorbid conditions and characterize their impact; and
Promote health for people with vision impairment.
Prevent Blindness and the NCCVEH are pleased to be a sponsor of the IOM study on Public Health Approaches to Reduce Vision Impairment and Improve Eye Health, and strongly endorse the Committee's Statement of Task in its entirety.
We strongly endorse this Committee's Statement of Task in its entirety, but there are a few areas that are especially relevant to our work:
Prevention is challenging work, but it's made more so by our lack of understanding of the full scope of the problem and the populations that are impacted. So we certainly support strategies to improve surveillance, particularly those that address the impact of co-morbidities with vision, health disparities, and access challenges.
We have a strong interest in models of care and prevention that promote increased access, early diagnosis, and improved quality of life by exploring innovative technologies, an increased and/or more effective use of the eye care workforce, and full use of the continuum of eye care – this includes public health and primary care screenings, comprehensive eye exams and treatment, and low vision support.
We also encourage you to consider opportunities for integration of vision and eye health into existing public health programs at the federal, state, and local level; as well as support of state-based coalitions to comprehensively address the unique vision challenges within our states.
Finally, we would like to note that well designed and properly administered vision screening programs are appropriate and essential elements of a strong public health approach to vision care. A screening is not a competing health care strategy with an eye exam. Rather, they are complementary interventions. The purpose of vision screening is to increase the number of individuals in need of care who ultimately receive comprehensive eye exams and necessary treatment.